CERTIFIED CENTER
Ford Certified Says It All
The right to choose an FCCN repair center is yours. The advantages of making this choice speak for themselves.
Why certified centers are the right way to go
Experience the Excellence of Ford Certified Collision Network (FCCN) Centers – Your Trusted Ford-Certified Repair Solution. Our FCCN Centers are the premier destinations for top-tier Ford vehicle repairs, ensuring the highest standards of quality while streamlining your experience. With a dedicated annual on-site evaluation and access to the latest repair guidance from Ford Motor Company, choosing FCCN guarantees a seamless process. Entrust your Ford's restoration to FCCN, where our workshop is committed not only to reinstating your vehicle to its pre-accident condition but surpassing it with unmatched expertise.
Extensive capabilities
Equipped with specialized tools, cutting-edge equipment, highly-trained staff, and thorough training, FCCN Centers wholeheartedly dedicate themselves to meeting rigorous Ford standards. These diligent endeavors play a vital role in effectively restoring your Ford vehicle to its original pre-collision state, ensuring a precise alignment with your exact expectations.
This encompasses a broad spectrum, beginning with authorized facilities that excel in aluminum repairs and are further enhanced by the utilization of coated boron steel self-piercing rivets. Additionally, our exclusive use of OE-approved paint systems guarantees meticulous color restoration in vehicle finish repairs. These capabilities cover a wide array of specialized expertise.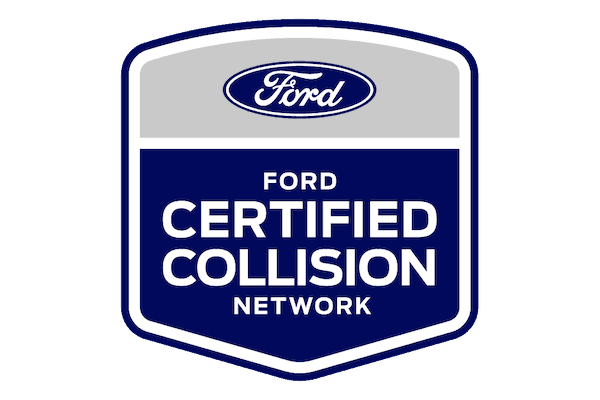 The Right Parts
Get the parts made by the same people who built your Ford.

The Right Policy
Check to make sure your insurance policy covers new OEM collision parts.

The Right Repairs
Learn what to ask and what to look for when you get repairs.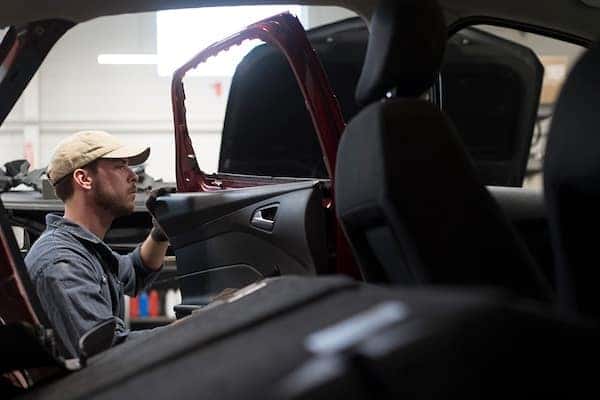 Proven expertise
Accurate repair methods play a crucial role in restoring a vehicle's structural strength and safety after a collision.
Our FCCN experts strictly follow Ford's repair protocols, prioritizing the use of Ford-tested OE components for repairs whenever possible. Consider the implications of modern collision avoidance and safety technologies, which heavily rely on perfectly aligned systems and components. This all-encompassing strategy guarantees peak performance and highlights the vital importance of such specialized expertise.
Outstanding customer service
FCCN Centers are fully committed to enhancing the repair process for utmost smoothness. This includes:
Working closely with your insurance provider to streamline the claims process
Providing regular updates on the progress of your vehicle's repairs
Offering alternative transportation options upon request
Providing a detailed breakdown of the completed vehicle repairs
Backed by a Limited Lifetime Warranty for repaired vehicle components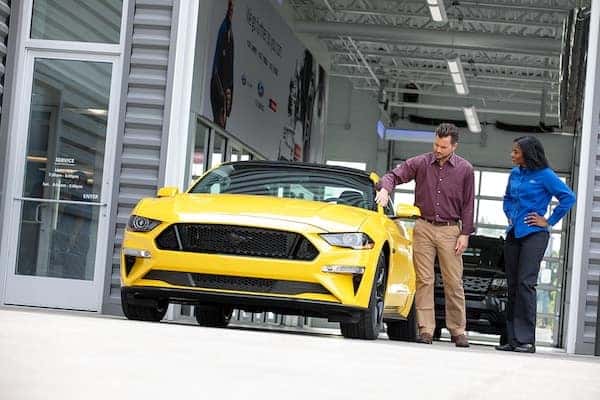 Schedule Appointment
Not All Collision Parts Are Created Equal
Choose Original Ford Parts for Secure Collision Repairs, as these replacements perfectly match your vehicle's original components. Unlike aftermarket, salvage, and counterfeit alternatives, they offer unparalleled quality.
Enhancing Windshield Safety Systems – Your OEM windshield seamlessly integrates with camera systems critical for features like lane departure warnings, autonomous braking, and rain sensors. Changes in shape, thickness, or specifications in aftermarket windshields can disrupt camera calibration and compromise safety.
Advanced Acoustic Glass – SoundScreen® acoustic glass reduces engine, tire, and wind noise, enhancing your cabin experience. Aftermarket windshields lack the noise-reducing ply layer found in OEM windshields.
Preserving Structural Integrity – An OEM windshield is engineered to remain intact during airbag deployment, maintaining structural integrity. Deviating from original specifications raises the risk of detachment, impacting airbag effectiveness.
---
Thorough Testing – Each new part undergoes rigorous testing to meet stringent safety standards before integration into Ford vehicles. These parts undergo independent and systematic testing, a distinction that aftermarket parts lack.
Ensuring Wheel Rim Safety – Your wheels bear your vehicle's weight. Cracked or bent wheels under stress can lead to further damage and accidents.
Attempting to "repair" wheel rims can weaken them, increasing risks to both wheels and tires, potentially causing accidents.
---
Sheet Metal's Vital Role – Sheet metal damage goes beyond aesthetics, safeguarding intricate components in doors, roof, bumpers, and more.
For sheet metal damage, consult a reputable Collision Center to assess if it's a reparable dent.
Trust in High-Strength, Military-Grade Aluminum – Newer vehicles incorporate high-strength metals like military-grade aluminum. Unlike Ford, aftermarket suppliers cannot replicate this precision.
For high-strength, military-grade aluminum, rely on certified Ford or independent collision centers.
Our Location


Ford Certified Collision Center
5849 Peachtree Rd,
Atlanta, Ga 30341
Schedule Appointment
Have a Question?
Do not hesitate to reach out
(470)275-3500